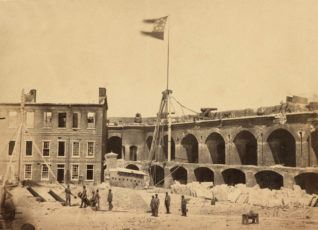 Drum roll please……………..Here we go — the first podcast installment in a monstrous enterprise, CJ's White Whale: the Dangerous History Podcast's coverage of the War Between the States!
In this first installment, we'll cover the opening moves, from December 1860 to November 1861.
Join CJ as he discusses:
The secession of the seven states of the Deep South following the election of Abraham Lincoln
The formation of the Confederate States of America, including its constitution
The accession to office of the Lincoln Administration
The firing on Fort Sumter
Sumter's impact on the North and the South, including the secession of the Upper South
Lincoln's actions to try to keep the Border States in the Union, by any means neccessary
Preparations for war & early skirmishes
The Battle of Manassas (or First Bull Run) and its impact
Julia Ward Howe's "Battle Hymn of the Republic" (written in Nov. 1861) as portent of the total war-crusade to come
Support the Dangerous History Podcast via Patreon
The official DHP Amazon Wish List
Other ways to support the show
The Dangerous History Podcast is covered by a BipCot NoGov license; learn more at BipCot.org
The Dangerous History Podcast is a member of the Dark Myths Podcast Group & LRN.fm's podcast roster.
Internal Links
External Links
CJ's Picks (Amazon affiliate links)