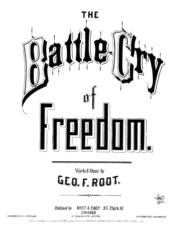 I was originally going to discuss the song "Battle Cry of Freedom" and the Emancipation Proclamation, and then cover another major battle or two at the end. However, by the time I got done talking about the Proclamation, I had more than enough material for an entire episode, so decided to just stop there for now. Hope you enjoy!
Join CJ as he discusses:
The song "Battle Cry of Freedom," composed by George F. Root in July of 1862
The Lincoln-Greeley letters of August 1862
The Emancipation Proclamation (announced in September 1862 & implemented in January 1863) and its effects
Support the Dangerous History Podcast via Patreon
CJ's official DHP Amazon Wish List
Other ways to support the show
The Dangerous History Podcast is covered by a BipCot NoGov license; learn more at BipCot.org
The Dangerous History Podcast is a member of the Dark Myths Podcast Group & LRN.fm's podcast roster.
Internal Links
External Links
CJ's Picks (Amazon affiliate links)