Ep. 0126: The Story of Squanto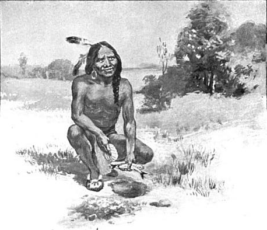 Podcast: Play in new window | Download
Subscribe: Apple Podcasts | Android | RSS | More
Tisquantum (or Squanto, as he's better known today) was a Patuxet Indian with an incredible, complex life story that  very few people have an inkling of today; and when you look at the story of early seventeenth-century New England from his perspective, it's a very different tale than what you get from standard American mythology.
Join CJ as he discusses:
Squanto's early life as a Wampanoag in Dawnland, and his abduction & transportation (possibly more than once) to England as a young man
How he finally made it home after years of absence only to find his community had been wiped out by European diseases while he was gone
His uneasy relationship with the Wampanoag sachem Massasoit
How Squanto used his knowledge of the English language & culture to make himself indispensable to the Pilgrims who began settling on the former site of his village, and tried to leverage that for his own ambition, but ultimately died before any of his ambitions came to pass.
Support the Dangerous History Podcast via Patreon
The official DHP Amazon Wish List
Other ways to support the show
The Dangerous History Podcast is covered by a BipCot NoGov license; learn more at BipCot.org
The Dangerous History Podcast is a member of the Dark Myths Podcast Group & LRN.fm's podcast roster.
Internal Links
CJ's Picks (Amazon affiliate links)