Ep. 0056: Fun with Fascism!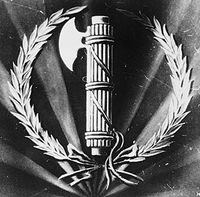 Podcast: Play in new window | Download
Subscribe: Apple Podcasts | Android | RSS | More
This is not a historical narrative of any particular fascist regime or regimes.  Instead, it's an exploration of what fascism — arguably the most slippery of modern "isms" to define — really is.
Join Prof CJ as he discusses:
 Some quotes from the father of Fascism, Benito Mussolini, to get things started
Why fascism is tougher to nail down than other isms
What fascism is and isn't, including some criticism of the standard "Left-to-Right" political spectrum
A look at some of the defining elements of fascism, using John T. Flynn's As We Go Marching (1944) as a starting point
An excerpt from the Nazi Party's platform dealing with their economic planks, and possible American parallels
A few words on fascism post-World War II
Internal Links
Prof CJ's Picks (buy anything from Amazon via these links to help support the show at no additional cost to you)