Ep. 0042: Thanksgiving Special: Merrymount (A Pilgrim Story They Didn't Tell You)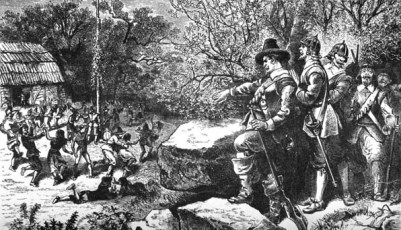 Podcast: Play in new window | Download
Subscribe: Apple Podcasts | Android | RSS | More
Thought the Pilgrims came to Plymouth because they valued freedom?  Think again.  The only freedom they valued was the freedom to conform to their rules and beliefs.
Prof CJ tells the story of the Merrymount colony, a happy-go-lucky settlement of pagan party animals forcibly ended by Plymouth Pilgrims.
"Jollity and gloom were contending for an empire," as Nathaniel Hawthorne put it.
Here's a (sort of) Thanksgiving special; even though the story doesn't relate directly to Thanksgiving, I thought it was appropriate timing since it does involve our good friends, those buckle-hat-wearing uptight people known as Pilgrims.
Join Prof CJ as he discusses:
A brief discussion of the Pilgrims and Puritans (and the meanings of those terms) who founded the better-known colonies in the Massachusetts Bay area in the seventeenth century)
The Merrymount colony founded by Thomas Morton just up the road from Plymouth, and how this non-Puritan colony embraced High Church Anglicanism and even paganism
The destruction of Merrymount
The legacy of Puritanism in the American mindset, and the tensions between those who, like the Puritans, wish to impose their "morality" on others and those who, like the Merrymounters, wish to live free and pleasurably
Prof CJ's reading of "The Maypole of Merrymount" by Nathaniel Hawthorne
Prof CJ's Picks (buy from Amazon via these links to help support the show at no additional cost to you)