Ep. 0070: DHP Villains: Sargon of Akkad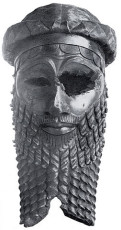 Podcast: Play in new window | Download
Subscribe: Apple Podcasts | Android | RSS | More
Often described as the world's first empire-builder, Sargon of Akkad may not entirely deserve that title.  But he's the earliest empire-builder to achieve lasting notoriety.
Join Prof CJ as he discusses:
A brief excerpt from "The Legend of Sargon"
The historical context of ancient Mesopotamia and the Sumerians who peopled most of the southern part of the region which Sargon later conquered
Sargon's rise from obscurity to the throne of Kish
His subsequent conquest of virtually all of Mesopotamia into one empire
The efforts of Sargon & his heirs to centralize their rule over this empire, with partial success
Sargon's death, and a little bit about some of his successors, including Naram-Sin
Some thoughts about the degree to which Sargon was a prototype for many of the "great" rulers and conquerors who came later, and whether conventional notions of "greatness" might in fact have a tinge of psychopathy that serves the rulers' interests
Exciting Announcement: You can now support the Dangerous History Podcast on a per-episode basis via Patreon!
Prof CJ's Picks (buy anything from Amazon via these affiliate links to help support the show at no additional cost to you)