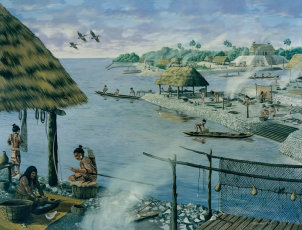 The Calusa were a fascinating Native American people who populated the southwestern coast of Florida.  Despite having no real agriculture, they developed a dense, sedentary, complex society, with all the good & bad that entails.
Join CJ as he discusses:
The origins of the Calusa
Their physical description
Their society, hierarchy, and religion
The relationship of the Calusa to their environment, a highly productive estuary which they used to efficiently procure nourishment and materiel
The fate of the Calusa
CJ's thoughts on lessons we might learn from them
Please consider signing up as a Dangerous History Podcast patron on CJ's Patreon account!
Other ways to help support the show.
External Links
Check out the LRN.FM App!
CJ's Picks (buy from Amazon via these affiliate links to help support the show at no additional cost to you)