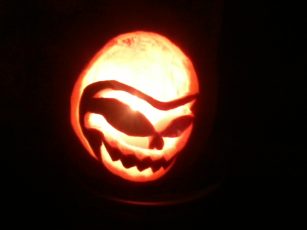 (BTW, the picture above is CJ's Jack o' Lantern from 2014, lovingly hand-carved using only good old-fashioned knives, no namby-pamby power tools.)
I love holidays, and Halloween is probably my favorite holiday of all.  To share the spirit of the season, I decided this year to do a 2-part Halloween special.  I hope you'll find this fun, enjoyable, and different.
Join CJ as he reads the following scary stories & poems from the 19th and early 20th century:
"Alone" by Edgar Allen Poe
"Young Goodman Brown" by Nathaniel Hawthorne
"The Festival" by H.P. Lovecraft
"Darkness" by Lord Byron
Part 2 of the Halloween Special will be a Patreon Bonus Episode with even more great scary stories & poems, just for supporters of the show.
Happy Halloween!
Support the Dangerous History Podcast via Patreon
The official DHP Amazon Wish List
Other ways to support the show
The Dangerous History Podcast is covered by a BipCot NoGov license; learn more at BipCot.org
The Dangerous History Podcast is a member of the Dark Myths Podcast Group & LRN.fm's podcast roster.
Bumper music for this episode:
Danse Macabre – Violin Hook Kevin MacLeod (incompetech.com)
Licensed under Creative Commons: By Attribution 3.0 License
http://creativecommons.org/licenses/by/3.0/