Ep. 0072: The Atomic Bombing of Hiroshima & Nagasaki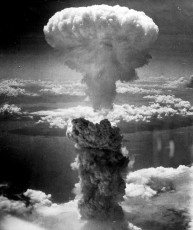 Podcast: Play in new window | Download
Subscribe: Apple Podcasts | Android | RSS | More
This month is the 70th anniversary of the atomic bombings of Hiroshima & Nagasaki, and the subsequent surrender of Japan to the United States, ending World War II.  The standard mainstream American narrative about this portrays it as a no-brainer, a morally unquestionable & absolutely necessary decision that saved untold numbers of lives.  This narrative is not supported by many serious academic historians who are experts on this topic these days, and it is highly questioned in countries other than the United States, to put it mildly.  What's the truth about these bombings?
Join Prof CJ as he discusses:
A brief word on mass-bombing of civilians in WWII, and how prior to its entry into the war, the US government condemned any mass bombing of civilians, but began engaging in it on a larger scale than anyone else once in the war
The successful "Trinity" test of an A-bomb, and the effect that had on the US government's decision-making
What was going on in the Japanese government & in the US government at the time
The Potsdam Conference & Declaration of July, 1945
The bombing of Hiroshima & its effects
The entry of the Soviet Union into the war against Japan & its effects
The bombing of Nagasaki & its effects [*Note:  Had an

error

I made here pointed out by a listener named Matt via Facebook: I said in the episode that Enola Gay also dropped the second bomb; it did not.  The E-G was involved in the 2nd mission as a weather recon plane, but another B-29 named "Bockscar" actually dropped the 2nd bomb.  I messed that detail up in my notes & as a result messed it up in the episode.]
Japan's surrender
Some closing thoughts & observations on the bombings, their morality (or lack thereof), and debates that have continued ever since
Become a supporter of the Dangerous History Podcast on Patreon — will be putting out bonus episodes for patrons there starting soon!
External Links
Prof CJ's Picks (buy anything from Amazon via these affiliate links to help support the show at no additional cost to you)